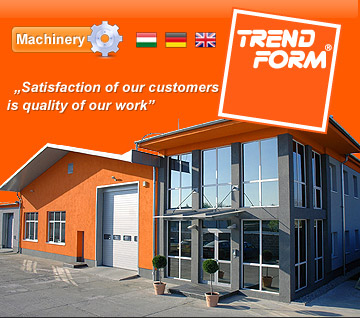 Dear Customer,
Trend-Form Kft., as a competent and reliable partner, offers classic industry services according to the principle "everything from one hand" that enables smooth composition of complete projects.
We undertake designing and producing plastic injection molds, die casting tools, vacuum form, rubber vulcanization, press tools for our partners.
Have a look at our reference works, request our offer!
Tool making, tool production in Győr, individual parts production on demand!
We undertake making the following tool types on your demand:

We undertake making the following tool types on your demand:

Trend-Form Szerszámkészítő Kft.

Address:

H-9028 Győr, Arató utca 17.

Phone:

00 36 96 427 712

Fax:

00 36 96 432 821

E-mail: